Learn more about cancer
Cancer: Disease Overview
Nearly 1.8 million Americans will learn that they have cancer this year. There are more than 200 forms of this often devastating disease, which are characterized by the uncontrolled and destructive growth of cells. Cancer is currently the second leading cause of death in the United States, and BRI is committed to finding out what causes it and how to better treat and prevent it.
Laboratory scientists are investigating the connections between autoimmune diseases and the mechanisms that help cancer grow and spread without being detected by the immune system. Clinical trials are studying cancer from a variety of angles, including prevention and treatment.
What Is Cancer?
Cancer is an umbrella term for a variety of diseases in which abnormal cells divide uncontrollably. These cells can invade nearby tissues and also spread to other parts of the body through the blood and lymph systems (known as metastasizing). Cancer can affect just about any part of the body. Biomedical advances over the past 50 years have vastly improved the treatments and outcomes for people facing cancer.
What Causes Cancer?
Cancer is caused by changes to genes that control the way cells function, especially the way they grow and divide. Usually, the immune system eliminates cells with damaged DNA. In the case of cancer, the immune system fails to recognize the cancerous cells and they can grow uncontrolled within the body.
What Are Risk Factors for Cancer?
Scientists still don't know why one person develops cancer and another does not. However, research has shown that certain factors can increase a person's chances of developing cancer.
Age – Older people are more likely to develop cancer.
Health habits – Smoking, drinking alcohol, obesity, excessive exposure to the sun and unsafe sex can all increase the chance of developing cancer.
Family history – Though cancer is not passed down from one generation to the next, gene mutations that increase the risk of cancer can be. Not everyone who has a specific gene mutation will develop cancer. 
Health conditions – Some chronic conditions, such as ulcerative colitis, can increase the risk of cancer.
Environmental exposures – Exposure to harmful chemicals, such as secondhand smoke, asbestos, benzene, etc., can increase the risk of cancer. 
What Is the Latest Research Into Cancer?
BRI is a leader in understanding the interaction between immune system function and the development of cancer. Our current research includes:
Unraveling how cancer cells stop the immune system from recognizing tumors as dangerous.
Pinpointing the links between cancer and autoimmunity.
Using artificial intelligence (AI) and data analytics to identify new targets for treatment.
Understanding the cells and processes that allow cancer to advance.
Clinical Research Studies in Cancer
We have ongoing clinical research studies in several areas of cancer research. Studies labeled as "Enrolling" are actively accepting new participants while studies labeled as "Closed to Enrollment" are still active but no longer seeking new participants.
Please email Cancer Clinical Research or call (206) 287-6270 for more information.
Are you living with cancer?
Support cancer research at BRI by participating in our cancer biorepository.
Blog Stories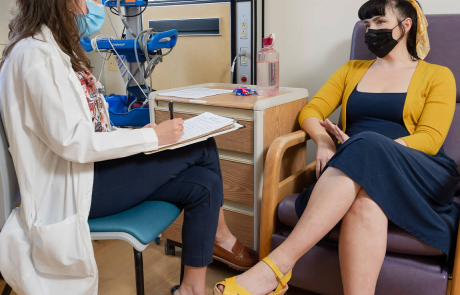 September 19, 2023
An Insider's Look Into Clinical Trials at BRI
Before medicines become widely available, they have to be rigorously tested — first in the lab, then in people through clinical trials.
Read Article
Immuno-what? Hear the latest from BRI
Keep up to date on our latest research, new clinical trials and exciting publications.