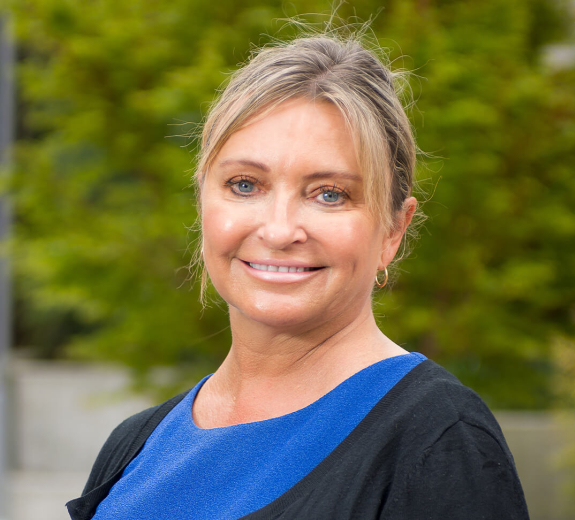 Living with Lupus: Lori Carter's Story
Lori Carter is a national sales manager, a personal health coach, a wife and a mom. Her life was moving a million miles an hour before she was diagnosed with Systemic Lupus Erythematosus (SLE), a chronic, systemic autoimmune disease, in April of 2013.
Lupus affects as many as 1 in 1,000 people, and is caused by the immune system mistakenly attacking healthy cells. But its wide variety of symptoms and manifestations – like inflammation of the kidneys, joints, and skin, severe fatigue, headaches, and lung issues – can make it difficult to tell who's sick, or what they're actually suffering from. As Lori explained, "it's a silent, cruel disease. And it is serious. I had no idea that you could die from it."
At the time of her diagnosis, Lori was told that if her symptoms had manifested 10 or 15 years ago, she likely wouldn't have survived. Four years on, she's finally managing her symptoms successfully. She prioritizes self-care by regularly exercising and doing yoga, eating a no-processed-food diet, and staying hydrated. These days she visits the doctor for lab tests to monitor lupus flares every 90 days instead of seven, and is taking three medications instead of 12. But it took time and a remarkable effort to get there.
We recently sat down with Lori to hear firsthand about her journey from diagnosis to achieving a fuller, healthier life.
What was it like being diagnosed with lupus?
Before I was diagnosed, I lived a completely crazy, stress-filled life. I'm a salesperson, a mom. High-stress work caught up with me. It was my everyday life for years. So when this hit me it was kind of like the universe or somebody telling me you don't get to run like this your whole life. I couldn't even walk a block.
My kidneys were failing, and I didn't know what was wrong with me. When my doctor called me at home and said I had SLE, I didn't really know what to think. I was kind of relieved but I had no idea what I was in for…and then the treatments started.
The first three years were miserable. When your kidneys are failing they put you on the same regimen as a kidney transplant patient, so a lot of the side effects from the drugs were more difficult than any symptoms I had from lupus. One of the side-effects the medication can have is that your hips can collapse, and of course mine did, so I had to have a double hip replacement.
It got better, but it was the most difficult time of my life in terms of health. I'm just now starting to feel like I look like myself, feel like myself, but I had to go through it all to get to this side.
What were some of the things that helped you get there?
Beside great doctors, family support and lupus groups online. Once you start digging into it, you can find a network really easily. People ask different questions and a lot of times others will jump in. People who've had lupus for years have different answers to share, and sometimes one person will have a better answer than someone else who's also had it for years.
And of course, the Benaroya Research Institute. When I was first diagnosed, my doctor told me that without Dr. Jane Buckner's research, I might not have survived. I get to go home to my husband and my sons every day because of what BRI's researchers do.
Did your diagnosis affect your life at home?
I laid on the couch for at least a year, so my husband had to pick up the slack. One time he worked from home for two weeks and didn't leave me. He did everything, he was awesome. He still is. It's a richer relationship all the way around. Because that had to be hard on him, too.
I have two sons and they were both very worried. I remember one Mother's Day – I was all swollen because of the prednisone – my family took me to my favorite restaurant and I could see big tears in my son's eyes. It was hard watching them. A lot has changed since then. My son now goes to Boise State, and this Mother's Day he gave me a card that says "you're the biggest fighter I know."
Thinking about where you are now, what would you say to someone who was just diagnosed?
Don't just Google lupus. That was my first inclination and there are a lot of horror stories. Do what your doctors tell you to do. Even though it's uncomfortable and you don't want to do it, you really need to follow their advice. From there, ask for their help to immerse yourself in learning about the disease and what you can do to try and manage your symptoms and get back to health.
I'd also say that you can live with SLE. Right now I feel like I'm thriving with it. I recently golfed with my family, my kidneys are no longer failing, and I still have a very vibrant life.
What advice would you give to those who are trying to be supportive, or are looking for support?
Sometimes people are afraid to talk about it. It's like death – people get scared and they're afraid to bring it up. But it's the elephant in the room, we all know it's here. Just be patient and non-judgmental. Don't assume. Be present. If you're the one that's the friend, just listen. And if you're the one with lupus, let people listen.
I can imagine this whole experience has changed how you live your life.
When you get diagnosed with something like this, you need to find a purpose. I'm now a personal health coach. I wanted to try not only working with the doctors but also try and heal myself. That was my way of finding a purpose. I don't currently work with people living with autoimmune diseases, but I would love to. I think it is probably in my future at some point.
Honestly, it's the fear of the future that is still difficult for me. But you can't live in fear. All you can do is your best each day. And don't be afraid to ask for help if you need it. People are kind, they are really are.
This interview was edited for length and clarity.
---
This blog post is part of a series dedicated to understanding the autoimmunity journey from diagnosis on.
Immuno-what? Hear the latest from BRI
Keep up to date on our latest research, new clinical trials and exciting publications.