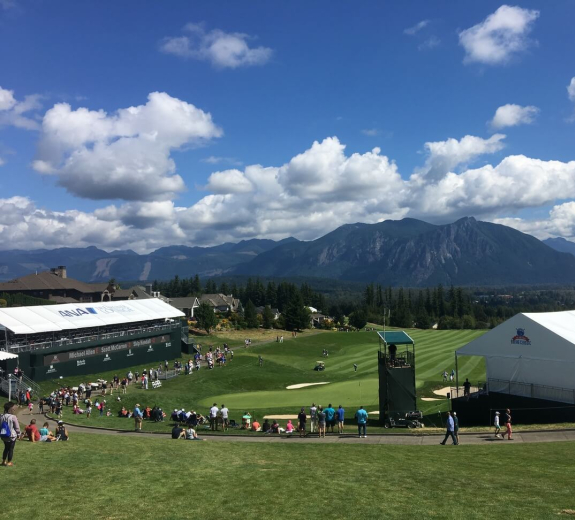 The Boeing Classic is Back!
The Boeing Classic is back! After the event was canceled in 2020 due to the pandemic, we can't wait to host the annual golf tournament and fundraiser from August 16-22, 2021. Proceeds support BRI's mission to predict, prevent, reverse and cure diseases that impact the immune system — from autoimmune diseases, to cancer to COVID-19.
"We were cautiously optimistic that the tournament would happen, but we didn't know exactly what it would look like or if we'd be able to have spectators in person," says Brian Flajole, Boeing Classic event director. "We've been working directly with the governor's office on regulation and safety for an outdoor event and we'll largely be able to have the tournament as usual, adhering to the state's guidelines."
The week-long event includes traditions like the Seahawks Rumble at the Ridge, where sponsors bid on the opportunity to play a round of golf with local sports heroes. The professional tournament, part of the PGA Champions Tour, starts Friday with the Boeing Classic Flyover — an event highlight where Boeing flies a jet directly over the golf course.
Proceeds from the tournament help advance BRI's work in many ways. One way is by filling a common gap in scientific research: providing funding for new, innovative studies.
"Most grants require innovative ideas, along with preliminary data to support the planned research. It can be difficult for scientists to find funding to test brand new ideas and generate the data they need to apply for these grants," says Vivian Gersuk, PhD, who manages BRI's Genomics Core Laboratory and who often volunteers at the Boeing Classic. "Philanthropy can help fill that gap, providing the funds to test and develop data that will support application for larger funds."
Donations can also help scientists purchase new tools and help them gain new insight into research. This is especially important for Dr. Gersuk and her team in the Genomics Core. Their job is to help scientists across BRI leverage advanced tools to better understand the role genes play in the development and treatment of immune system diseases.
For example, donated funds recently helped purchase a tool that allows her team to look at hundreds of thousands of individual cells in extreme detail. Then, they can look for patterns that might tell them which cells are involved in disease. This, in turn, can identify some of the critical elements in the development of immune diseases and can help inform better, more targeted treatments.
"New technologies are becoming available all the time, allowing us to study things at a level we never dreamed of years ago," she says. "This helps us stay on the cutting edge of research — and sometimes, even ahead of that."
Anyone interested in supporting BRI through the Boeing Classic can view the event schedule and purchase tickets online for $20 or at the gate for $25.
"The Boeing Classic is a highlight every year. We are tremendously grateful for everyone who supports the tournament and for BRI's generous community of donors," Dr. Gersuk says. "You make it possible for us to work more effectively and efficiently and use the latest technology to advance research. Your support plays an invaluable role in generating answers that will really help people."
Immuno-what? Hear the latest from BRI
Keep up to date on our latest research, new clinical trials and exciting publications.